Spring is just around the corner, and with it comes a plethora of new home interior trends to capture your interest. Whether you're looking to revamp one room in your house or overhaul a newly purchased home, design trends are a great place to look for inspiration.

According to the experts, we're going to look at some of the best spring home interior trends. Let's dive in.
Open-plan living

As more of us spend more time at home, we're turning a critical eye toward our homes' layout and flow. This has been a push toward people wanting to maximize their floor plans.

Open-plan spaces let people move about their homes with more fluidity while still allowing for the incorporation of clear zones for working, exercising, eating, and other activities. They promote an open, airy feel and are easier to manage a family than enclosed spaces.

The lack of walls makes socializing more accessible, encouraging family members to spend quality time together while not disrupting their established routines. Open-plan spaces are also a boon for hosting friends and family, as you can keep conversations flowing with guests while multitasking.
Self-care spaces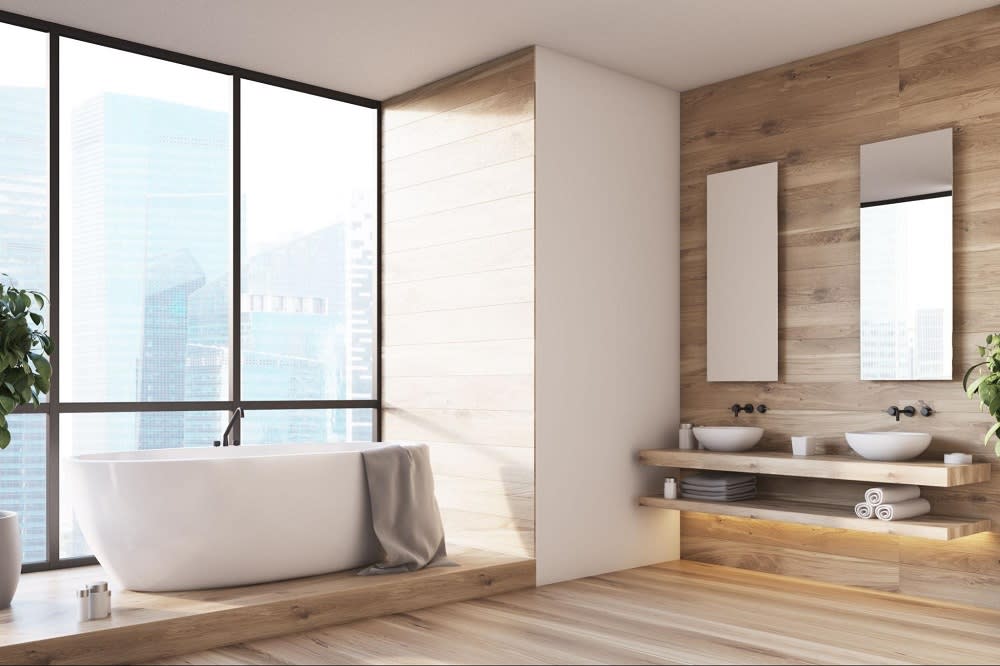 Self-care spaces, sometimes called "self-spaces," are a growing driver in home renovations this season. These areas are designed to prioritize wellness or hobbies, and many people are jumping on this particular bandwagon.
As people focus inward, paying attention to their health and wellbeing, these unique areas facilitate their drive to spend time on things that nourish or fulfill them.
A self-care space might be a particularly decadent reading nook or a craft table dominating a corner of the living space. Some people are taking the trend to the bathroom, investing in spa-inspired fixtures and designs to help people luxuriate in an otherwise overly functional room.
Biophilic principles

Biophilic design connects space to nature by maximizing ventilation and natural light while introducing plants and other natural materials to boost moods. By linking the indoors and outdoors, you'll make your home feel bigger while also inviting the calming energy of nature into your space.

One of the easiest ways to live a biophilic lifestyle is by incorporating houseplants into your home. Plants look great, but they also help purify the air — having them in your home can boost your productivity and mood.

If your thumb isn't particularly green, you can also incorporate biophilic principles into your home by investing in organic, rustic, and sustainable pieces of furniture. These eye-catching pieces can easily evoke a sense of natural tranquility.
Intentional organization

Intentional organization refers to the practice of displaying your things in a clear, thoughtful way. Gone are the days of cluttered cupboards or unorganized wardrobes. People are turning to methods of expressing their items in a functional, zen manner.

This trend can take the form of floating kitchen shelves rather than the traditional cupboards or open hallway shelving systems rather than shoe closets. The theme is the same, no matter your approach: useful items are displayed in the open but deliberately, in an orderly way.

Intentional organization requires a lot of discipline. Because your things are out in the open, there's no more throwing random items in the back of the closet to deal with later. Instead, you have to consider using each item in your house to determine if it deserves the space it occupies.
Barkitecture

Barkitecture is the practice of incorporating luxury spaces for our pets into our homes so that they fit seamlessly with our own design choices. Gone are the days of traditional pet-proofing; this season will see us prioritize our furry friends.

Our love and appreciation for our pets have grown as we've spent more time at home. That close relationship affected how we design our spaces. For example, there's now demand for multi-functional utility rooms that incorporate built-in dog showers. Before, people would use the outdoor tap to wash off muddy paws, but now dog owners want something more luxurious for their pups.

This trend isn't likely to slow any time soon and speaks to a need to create a functional and livable home for all family members, pets included.
Maximalism

Maximalist décor is making a comeback in a big way. Gone are the days of sober minimalism, and this season will see us celebrate colors, patterns, and big design personalities.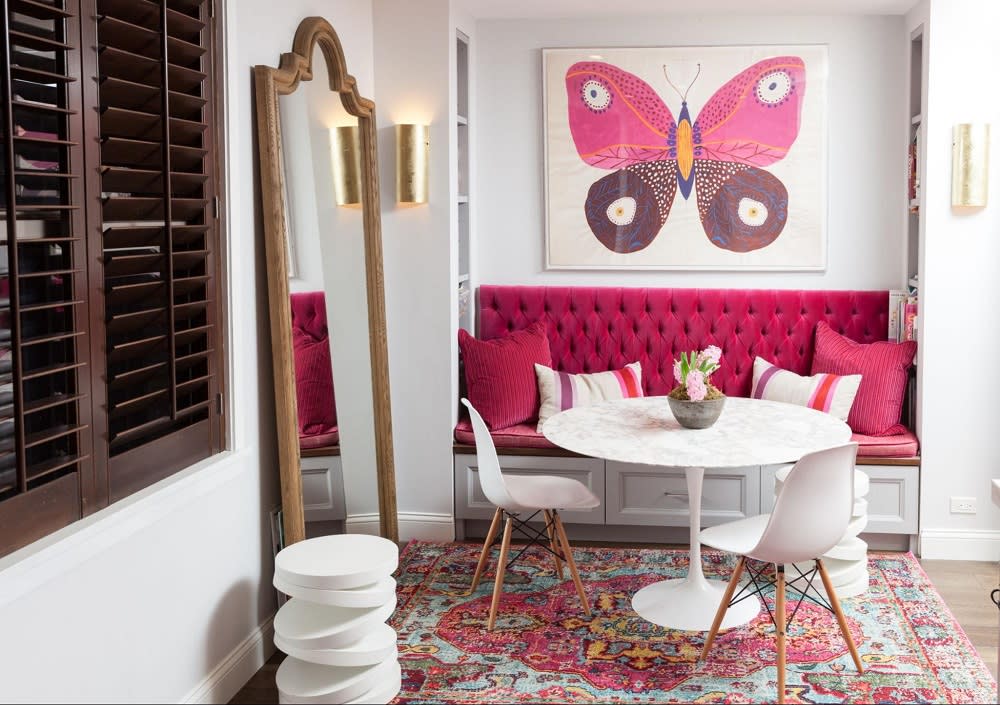 As we spend more time in our homes, we're itching to make them reflect more and more of our personalities. Maximalism is a great way to do just that — take everything of interest and make it a part of your space.
When it comes to this trend, it's tough to go wrong. More is more with maximalism. Don't be afraid to experiment with paint effects and bold color blocking. Patterns that clash are also in the cards, as is the incorporation of bigger, bolder accessories.
Sustainability

With climate change looming, more and more of us are turning our attention toward prioritizing sustainable products and living practices. Consciously designed and ethically-manufactured products are leading the pack when decorating our homes, which extends beyond décor. Recycled water systems, smart thermostats, and more are all making waves as people begin to live more sustainable lives. Everything from furniture to building materials is under the microscope.

Jumping on this trend is all about making conscientious decisions in designing your home. Prioritize sustainable practices, and you'll do your part for the planet and your peace of mind.
Local designs

As supply chains continue to be disrupted worldwide, people are now looking closer to home for home interior design inspiration. Local manufacturers are getting a lot of business because they're the most reliable source of products right now and because people are more conscious of how and where they spend their money. The past few years have taught us that supporting our local economy is our best chance for survival, and that lesson is reflected in the way we're revamping our homes.

What does this mean for you? Search and buy local. Step outside the global bubble and take some inspiration from your own backyard. This might mean buying locally-made furniture or investing in local artists. However you decide to indulge in this trend, you'll do your local community a favor.
Personalized art

This season will set aside mass-produced art prints for wall décor that speaks to us personally. Whether it's a framed painting by a local artist or a commissioned portrait of your beloved pet, today's walls will host more meaningful pieces.

A great way to indulge this trend is to prioritize small, independent artists when shopping for pieces. Scour Instagram, visit local galleries, or wander among some artist stalls at your local market and find works that speak to you. If you like a particular artists' style, you can also see if they take commissions — there's no better way to decorate your home using a personal touch than with a piece of art you helped create.
Curved and sculptural furniture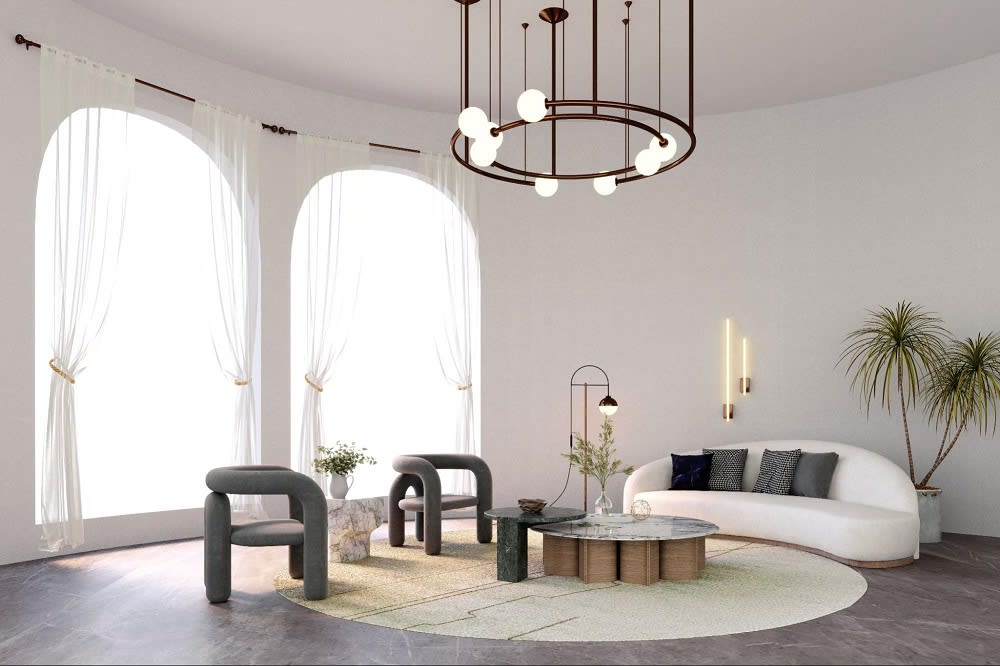 Curved shapes are instinctively read as friendly, safe, and welcoming. In today's hectic world, these feelings are a must in every home. As a result, we see a push toward furniture with softer shapes and angles as we head into spring.
Everything from couches to benches to coffee tables is getting the curved treatment, with more manufacturers producing products with softer edges and lines.
Indulging this trend is as simple as investing in furniture with soft, smooth curves. No more pointy edges on your coffee table — instead, look for more sculptural designs that evoke a sense of safety.
Dual-purpose rooms

As we spend more time at home, our spaces have to work doubly hard. The kitchen may double as a conference room, while the dining room table doubles as a work desk. We use different rooms more fluidly, switching contexts at a moment's notice.

This dual-use behavior is causing our design of these spaces to change over time. More people are investing in seamless storage solutions so the accessories for one activity can be put away as a different context takes over the space. Jumping on this trend requires you to examine how you use the rooms in your home carefully.

Once you see how the use of each room has changed, you'll be able to design the space to be more effective.
Jump on these trends
Trends may come and go, but they're always a great source of inspiration. From personalized art to maximalism to barkitecture, these spring trends are set to take the interior design world by storm.
We hope we've given you a few solid ideas to pursue as you make your home the best it can be. If you're ready to start your real estate journey in River North, Chicago's trendiest neighborhood, contact
Julie Latsko today
for expert guidance.