River North is the art and design capital of the windy city and, as such, has a ton of enticing activities to experience. It also happens to be the home of Chicago's best bars and trendiest clubs — in other words, it's where the nightlife happens!

River North has something for everyone, whether you're in the mood for fine art, dancing, or delicious donuts. With this in mind, let's look at ten of the best activities you won't want to miss in River North.
Merchandise Mart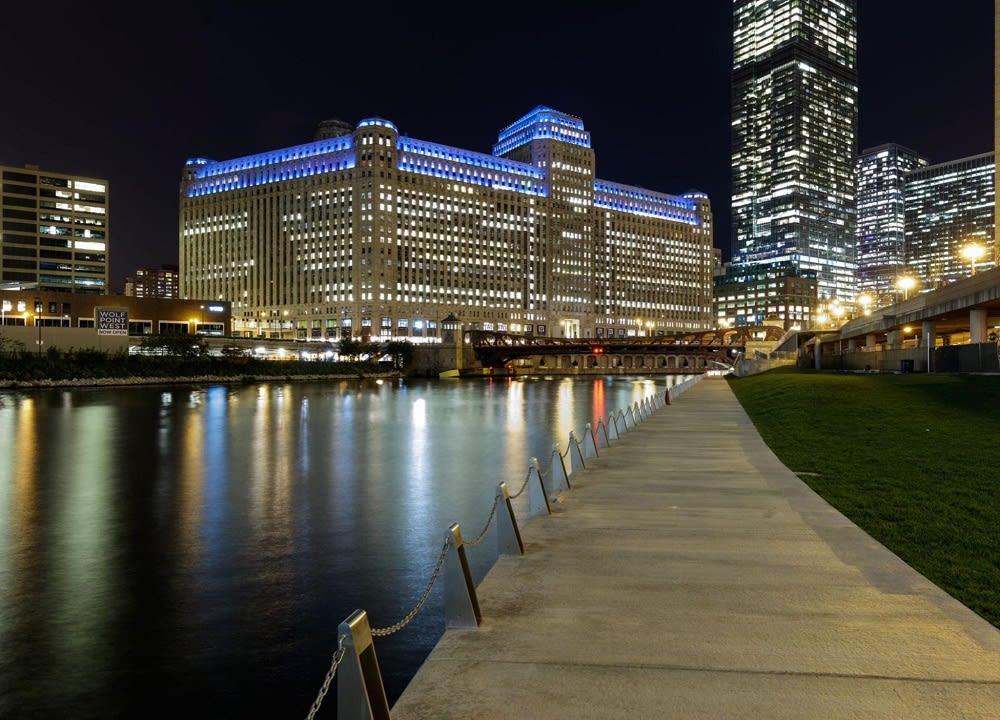 Merchandise Mart, otherwise known as "The Mart" by locals, is the world's largest commercial building and design center. Spanning more than 4.2 million square feet, The Mart is Chicago's hub for fashion, art, culture, finance, business, media, and more.
Merchandise Mart
features countless displays, shops, and showrooms spread out over 25 floors, encompassing two and a half city blocks in River North.
The design center at Merchandise Mart is also the world's largest home furnishing and interior design hub, with more than 125 showrooms. You could easily spend days wandering around The Mart and still not see everything there is to explore. It's best to have a few places in mind before entering; otherwise, you could spend hours just walking around the impressive building, which would be a fun day in and of itself.
The East Bank Club
Photo Courtesy of Steven Dahlman Photography
The East Bank Club is Chicago's premier sports and fitness complex. The building spans more than 350,000 square feet and features a seemingly endless array of fun activities ranging from swimming to spas to gyms and golf.
If you can think of a fitness activity, you can find it at the East Bank Club. The facility also has salons, co-working spaces, basketball and tennis courts, yoga studios, boxing, cycling tracks, children's programs, personal training studios, dozens of restaurants and juice bars, and exclusive outdoor spaces.
To enjoy the best of what
The East Bank Club
offers, it's best to purchase a monthly membership that includes everything except the spas, salons, and restaurants. If you only have a limited time in River North, this can be an excellent location to pass an afternoon.
The Carl Hammer Gallery
The Carl Hammer Gallery is one of many contemporary art galleries in Chicago's River North district. This location features an excellent collection of modern art and monthly exhibitions showcasing the best emerging talents from across the country.
Visitors to the Carl Hammer Gallery can see all sorts of art from various mediums, including paintings, sculptures, watercolor, murals, and much more. The gallery offers many services for those who have more than a passing interest in art, including fine art appraisals, art classes, and career development lessons for emerging artists. If you want to spend a day checking out some of the best art on display in Chicago, then be sure to drop by the
Carl Hammer Gallery
in River North for a few hours.
Assumption Church

This is the second-largest, but arguably the most impressive, church in Chicago. Although religious ceremonies are held on Sundays, this center of worship is open to the general public on weekday afternoons, and it's worth popping in to admire the impressive grand-scale architecture, stained glass window work, and awe-inspiring hand-painted ceiling murals. Everyone can appreciate services at the cathedral. The space serves as an art gallery for some of the most breathtaking design features and artwork anywhere in the city.
Ward A. Montgomery Park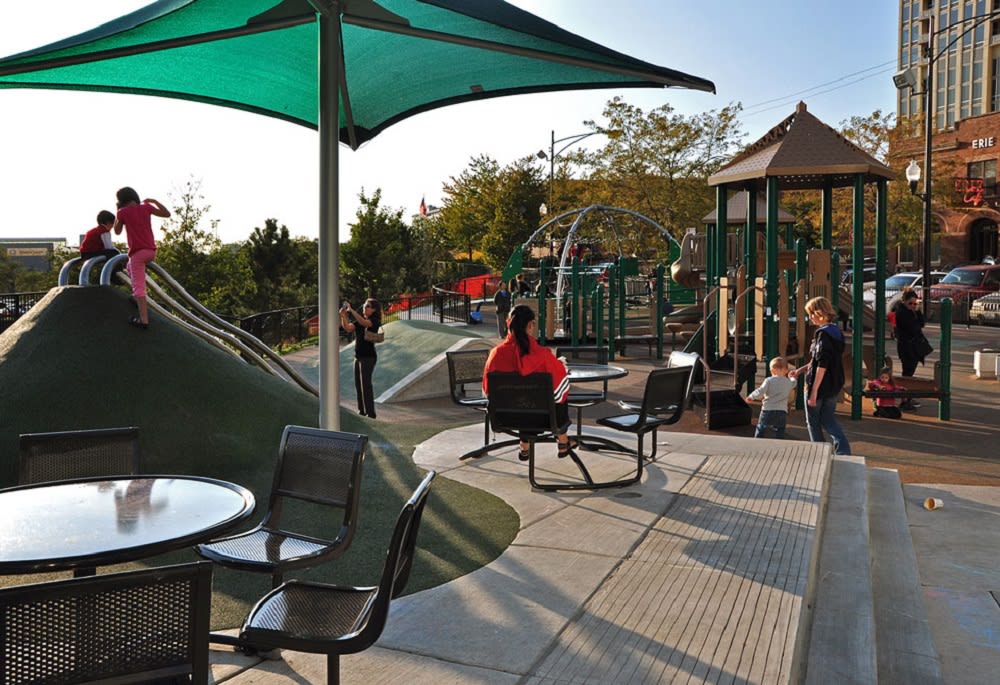 Photo Courtesy of Site Design Group
Ward A. Montgomery Park is one of the finest outdoor spaces in River North — maybe even in all of Chicago. That said, it's also one of the smallest parks in the city, but thanks to its riverfront location, it's still a great way to spend a few hours relaxing and watching the world go by. Those who have dogs will appreciate the attached dog park where you can let your furry friends off-leash to socialize. If you're in the mood, the park is a fantastic place to head down to the riverbank, where you can catch a boat tour of the Chicago River.
The Ann Nathan Gallery

The Ann Nathan Gallery is a colorful art gallery located in River North. Although small, the collection includes many funky and interesting pieces sure to inspire thought and conversation. The pieces on display include works made of metal, clay, and wood and numerous paintings and sculptures by diverse artists based in Chicago.

Additional works in the collection include collages made from found objects and furniture. You won't need a full day to explore the gallery, but it's definitely an intriguing way to spend an hour or two during your time in River North.
The Maya Polsky Gallery

After checking out the Ann Nathan Gallery, why not head over to the Maya Polsky Gallery, which features a large selection of contemporary pieces by Eastern European artists? The atmosphere here is very relaxed. Much of the artwork is soothing, making it a perfect gallery to visit when you want to unwind without devoting much thought power into interpreting complex art.

This gallery isn't the largest in the city, but it's a fun way to spend a few hours in River North and, when combined with the Ann Nathan Gallery, can make a whole afternoon itinerary. Both galleries have gift shops and also sell select pieces of art. For those interested in purchasing modern art for their homes, these galleries can be great locations to look.
The Underground Donut Tour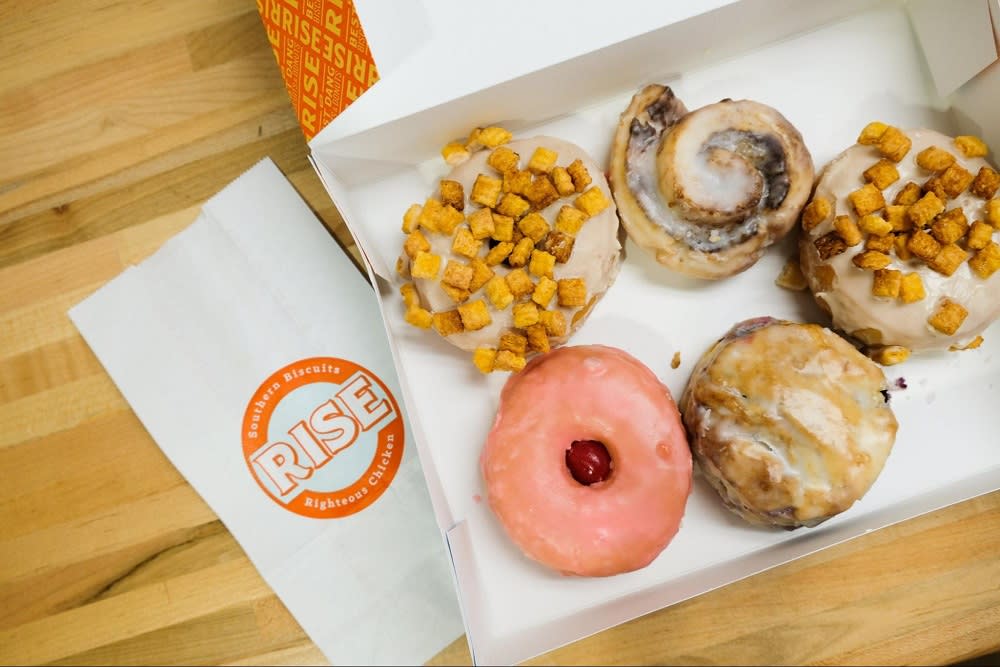 Photo Courtesy of undergrounddonuttour.com
A fan favorite of many visitors to Chicago and locals alike,
The Underground Donut Tour
has developed something of a cult following in River North. This inexpensive tour takes you to four independent bakeries off the beaten track to explore the unique creations of the artisan owners. While on tour, you will have a chance to see a lot of the River North neighborhood, learn all about how donuts are made and the different flavors in the city, and have an opportunity to sample different donuts from each bakery. The walking tour lasts for around two hours and doesn't involve any strenuous or steep climbs making it an accessible way to enjoy an afternoon on this tasty tour around River North.
Luxury shopping on the Mag Mile

When it comes to shopping, River North has you covered. The Mag Mile is a central thoroughfare featuring some of the most high-end boutiques in Chicago, including Cartier, Gucci, Louis Vuitton, and many more. If high fashion is your thing, you'll feel right at home in River North, as this is where the fashionistas of Chicago flock for all the latest and greatest clothing and accessories.
Explore trendy bars and restaurants

You can also find several innovative restaurants and cool bars in River North. You won't want to miss notable establishments like Celeste, Tao Chicago, and the Berkshire Room for cocktails, Roka Akor for sushi, Ramen-san for Ramen, and the Purple Pig for Tapas, and Steak 48 for the city's best prime rib. There are literally dozens of other hip restaurants in River North to enjoy but stumbling upon them when exploring the neighborhood is half the fun.
Summary
Chicago is a world-class city and features countless exciting activities for travelers and residents to enjoy. The River North neighborhood, in particular, is especially trendy and is the city's hub for culture, art, and entertainment. Whether you want to explore the numerous fine art gallery's dotting the neighborhood, wander around the world's largest commercial and design center, wine and dine at some of the fanciest venues in the city, or just enjoy delicious donuts, you'll be able to find an activity that you'll love in Chicago's most vibrant borough.
Julie Latsko is the premier
River North real estate
agent. If you're looking to buy or sell property in Chicago's trendiest neighborhood, contact
Julie Latsko today
for expert guidance.